The Challenge:
Heritage Community Credit Union (HCCU) is a member-owned financial cooperative that opted to dial back active marketing during the economic downturn of 2008. By 2014, the 60+ year-old credit union had lost too many members along with local market share. Under the leadership of a new CEO, TCG was retained to update the brand and revitalize marketing efforts. The specific task was to arrest and reverse the decline in member checking accounts and to attract new, high net-worth, and millennial members. Success in the banking industry often requires big budgets and economies of scale, as witnessed by the household name, market share leaders. This reality can be daunting for small to medium-sized banks and not-for-profit credit unions. Executing this challenge within a modest budget and limited service area contributed to the challenge.
The Recommendation & Execution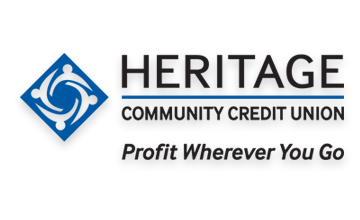 As part of a brand revitalization, TCG updated the financial cooperative's logo mark and color scheme, before introducing a new tagline: "Profit Wherever You Go." To further advance the evolution, TCG branded a new signature checking account as "iProfit Checking."
We know that trends towards convenience and personalization are enabled by technology, and this is all encouraged by the for-profit retail banking industry. TCG's execution leveraged a characteristic often negatively associated with big banks, "profit," and turned it around to the positive benefit of the member. This could be accomplished, according to TCG's Creative Brief, "… only with the credibility that a not-for-profit can deliver."
TCG planned and executed a successful iProfit Checking campaign that ran for five months in 2015. The campaign included targeted :30 second zoned cable and cinema spots, geofenced :15 second video pre-roll digitally retargeted ads, along with outdoor billboards. Promotions to existing members included statement inserts, in-branch materials, and e-blasts.
Member input via social media was overwhelmingly positive for the new tagline and checking account messaging. At the close of 2015, HCCU had realized a 92% reversal in checking account attrition over the previous year. Further they experienced a year-over-year increase of 12% in new checking accounts. In addition to continuing the iProfit checking campaign in 2016, TCG is assisting HCCU with expanded marketing and outreach initiatives that include a new branch opening.
TCG was tasked with updating the 16-year-old MarketOne Builders brand to better reflect its evolving presence in Northern California as a premier general contractor. Continue
After 20 years of growth and evolution at the Roseville Chamber of Commerce, the CEO and Board of Directors agreed that it was time to revisit the organization's brand. Continue